Fun Holiday Activities to Do with the Family
Even if it is snowy, rainy or windy where you are, we have some cozy ways to pass the holidays! Here are our Top 3 favorite crafts and activities from 2021. From bath bombs that reveal a dino surprise to sensory bowls that let us learn through touch, color and sound – we have packed loads of fun into this post! Try one together to pass the time with your family this holiday or just keep the kiddos busy while you have that (second) eggnog by the tree.
1. Sensory Play 
Sensory play offers children a unique opportunity to engage with the world in a way that helps them grow and develop. This kind of active play, which at first glance can seem scary to a parent (water! play dough! sand! mess!) helps to create connections in the brain that allow for increasingly complex thoughts and tasks. As we know, the very best way to learn is through first-hand experience! And one of the great things about creating sensory stations is – you can make one with stuff you already have. Here are three different sensory activity options to enjoy this holiday.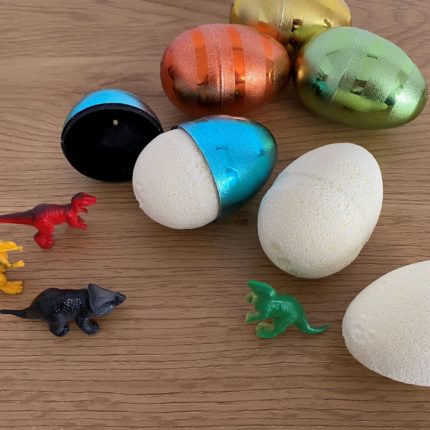 2. Dino Mystery Bombs 
This is one of our ultimate favorite crafts from this past year and it is easy to see why it's an incredible one for kids! Surprises? Check. Dinosaurs? Check. Fizzy eggs? Check. Consider it a playful alternative to holiday baking. Better still, young ones get break a from sugar but are left with two different elements for play after the craft is completed. Pretty sweet! Which came first the dino or the egg? Egg-cellent question…
3. Sharks that Don't Bite
From young kids to big kids, there is just something about sharks that captures their attention. Keep them from circling each other around the kitchen, by offering up this craft to create. These blue biters need few supplies and make fun friends to play with post crafting. Bonus: they also make adorable additions to the top of last minute gifts as well – just add a small red hat for an even more festive yet feisty swimmer and clip to your bow. 
From our Terra family to yours, we are wishing you a safe, happy and healthy holiday season. Make time for play and share your craft creations with us on Instagram
@TerrabyBattat
.